10 best business ideas for 2025 in India
Posted on Aug 27, 2021
|
By Sparsh Shreya
The future of the business industry is based on a multiplicity of possibilities and the potential of individuals. It is based on people's willingness to take risks and not waiting for something to happen. They don't wait for a change but are the ones who bring an altering revolution. We attempt through this article to provide the 10 best business ideas for 2025 in India. Being a developing country India exhibits a lot of potential domains and disciplinary areas for the proposition of budding businesses. Especially in fields of international trade, technologically inclined services, governmental incentives, and others. The key component is to establish a long-term, secure, sustainable, and worthy business. It requires an understanding of the trend and analyzing its potential in the coming 10-15 years. It has more to do with intricate research and an analytical understanding of the targeted market.
The strategies are guided by how the product would be consumed and undertaken and what potential does it sustain within itself. It may require an entire paradigm shift. From how things are perceived, consumed, or in general, observed. It may lead to new creations or deduction of few existing components. For instance, the virtual platform and online services have transitioned the perspective of business. Be it online payments through UPI services, transformation of fax and courier services being overtaken by emails, scanning, and others. Thus, there is an urgency to bring new opportunities and that is why we have curated the list of best business ideas for 2025. It can facilitate an even more cohesive and strategically versed future for businesses.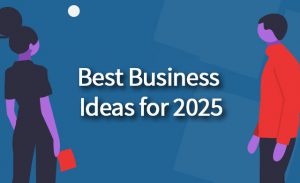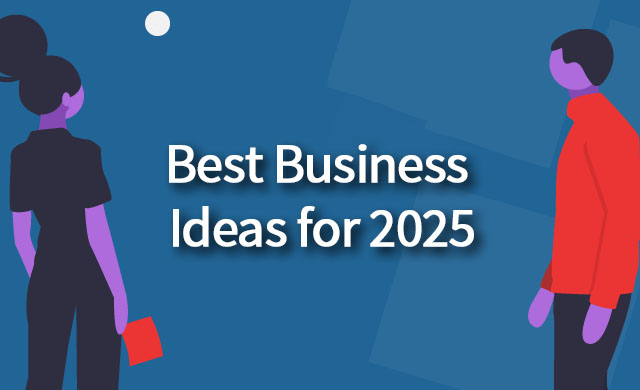 Let us discuss a few of those that could be considered the best business ideas for 2025.
1. Web Developer and Graphic Designer
With technological advancement, there is a need to create more accessible, and communicable websites, and graphical illustrations.  It projects the idea convincingly. Along the same lines, the web development industry is blooming vastly in both the public and private sectors. Companies and individuals hire them on a temporary, permanent, freelance basis based on the projects at hand. Both fields require a keen interest in creative and innovative ideation and because of the company's interest in it, it is one of the best business ideas for 2025. It has become a necessity especially post-pandemic since the majority of interactions occur virtually only.
2. Impact Investing
Investment ideation works parallelly on making money as well as directing impact on social or environmental aspects as well. It includes taking into account an entity's commitment to CSR (corporate social responsibility). The concept of this business model is to procure funds from multiple sources. The idea is to create funds that can be invested in socio-environmentally inclined and sustainable companies. It has been considered one of the best business ideas for 2025 based on the number of companies indulging in it.
3. Content Marketing
This field has recently over the past few years gained a lot of attraction and positive inclination thus is evolving. It involves tasks such as posting blogs, videos, SEO expertise content, short snippets, articles, papers, web content, e-mails, and others. It requires analytical thinking, communicative skills, apt researching abilities, creative perspective. What is interesting is that in today's time digital platforms are gaining so much attention. The internet becomes an everlasting space. Whatever is posted remains somewhere in the loop. Thus, the content is a necessity to involve, engage and create communication between people.
It becomes a platform of exploration, representation, and creativity. The content varies with the target audience thus, within it also there are a lot of sub-categories. For instance, a leisure-based blog might require more creativity in its styling. An article on something as specific as computation might require a more analytically versed in that topic individual. Thus, it opens opportunities for people from inter-disciplinary backgrounds. It also provides an altogether different platform for using their skill-set and knowledge.
4. Affiliate Marketing
Today the social media has become a powerful tool of interaction and reaching the masses. Many influencers and companies have gained massive profiter business due to affiliated partnerships. It functions on the mechanism of working with other businesses to prosper and profit jointly. The sales generated by the affiliator impact the company's market value and in return provide paid commission to the affiliator. It works as a win-win and mutually beneficial situation for both parties involved.
For example, a lot of branding happens through affiliation businesses especially bigger brands such as Amazon, Myntra, Big Basket, E-bay, and others. It is a tactical strategy to diverge sales and increase revenue. The traffic increase to the brand's website often polishes its market image as well. However, on the downside, it impacts the livelihood of social media influencers and local retailers working on similar paradigms to earn.
5. Outsourcing Business and Knowledge
The working environment has changed vastly and will be evolving even further. As per the World Economic Forum (WEF), report outsourcing business will take a boom in the coming decade based on changing working environment. As Forbes magazine has also highlighted companies need employees. However, over 50% population of developed countries such as Canada, America wishes to work independently. Hiring local employees accounts for less profit and more costing of operating expenses such as labor expenditures, equipment, insurance, and others. Thus, to reduce such costs outsourcing works better especially with developing countries such as China, India as people are willing to contribute at relatively lesser pay.
The freelance work even profits the developing countries. They get good pay, exposure, opportunities, platform to offer virtual services that are stringent within their country. Countries like India have proficient individuals in varied fields making it to the list of best business ideas for 2025. It includes MBA's, Digital Analyst, Research Analyst, CA, and others. They account for major revenue generation and are categorized under knowledge-based services. Over the coming years, India might become the largest revenue generator of knowledge-process outsourcing.
6. Online Course/Virtual Learning
With almost all schools and universities turning to online classes post the pandemic it is essential to venture it more. The traditional education concept might not function effectively. Classrooms have transitioned from four-walled rooms to four-sided computer screens. Access to the internet has made it convenient for people to explore their interests massively. So why not transform with the world? For example, 30% of higher education students in the U.S opt for at least one distance course based on their interest. This offers children the autonomy to make their decisions and opt for the different courses. It requires people willing to guide, assist and educate them. The learning process is becoming diverse and more explorative. It gives them the opportunity to cross-learn and cross-benefit with this kind of cross-dependency.
7. Co-Working Spaces
With increasing rental spaces' prices and independently working lifestyles, small businesses do not prefer to get a separate office. Co-working spaces work wonders for such situations. They are affordable, reduce start-up costs, provides inter-disciplinary interaction and learning. However, post the pandemic a report elaborates on how 50% of co-working spaces' business revenue stooped. Now that businesses have reopened, people will again go back to the work environment outside their homes. The entire idea of the association through just virtual association after a point seems very superficial. These spaces provide a purpose, more active interactions, and a sense of community to people. A business that involves the human connection and not just money has to be in the best business ideas for 2025.
To consider the severity of the pandemic the co-working spaces now created consider health, safety as a top priority in its operation, no. of members, and other facets. A lot of companies have experienced massive losses post-pandemic. It might help businesses to re-establish their foundation with lesser funds. Also benefits companies that wish to have a partially online and partially offline presence of employees. It enables them to not undertake a massive space but instead strategically use the cohabitated space. This leads to the expansion of the cleaning industry, more opportunities in the tech industry. Thus giving a platform to thousands of newcomers to enter the workspace environment.
8. Internet of Things (IoT Industry)
It is a technologically advanced means to exchange data and information through equipment, sensors, software, and digital devices. It doesn't require human-to-human or human-to-computer interaction. This industry has seen a massive boom since the pandemic. This business has endless possibilities it can venture into giving people control and comfort with efficiency. Its ease of connectivity with smartphones and household appliances benefits people and gives them a sense of effective comfort. For instance, booking a cab or ordering food for immediate comfort is now a convention because we are habitual to it. But there was a time when it felt new and challenging. With times of transformation, the business has the potential to involve a multiplicity of markets and industries. It leads to efficient interaction and cross-benefit.
9. Consultancy business
This provides industry-specific experts offering professional advising, and other assistance to businesses experiencing issues. Usually the ones they are unable to deal with on their own. All of us have problems and we seek people who have the capability to help us in getting out of them. The consultancies are familiar with such issues and that is why it is amongst the best business ideas for 2025. For example, during the pandemic, people's mental health has gotten affected adversely. Everyone is trying to seek help through social media or some activity that they could engage themselves with. However, at times we cant simply fill the void by keeping ourselves occupied. We require consultation and assistance guided by someone proficient at it. It also provides good consultation for professionals and experts skeptical about their decisions and ideas.
There is an increase in the competitiveness that industries and companies face currently. People collaborate with consultancies to sustain themselves in the market and increase their revenues. There are various domains of consultancies such as educational consultant agencies, recruitment firms, customer consultancy, and others.
10. 3D Printing
The premise of the business is fabricating products in low-cost printers. It is equally fascinating to people as it is beneficial. With its affordability limited to a certain section, people are always skeptical about it. However, it is any day better than the prolonged and procedure-based processing in factories with shipment-related hassles. 3D printers can produce items such as spare camera parts, microsite models, sinks, and other intricate design styles. This business has created a stir in the industry across the globe. Over time the prices have gradually decreased to cater to larger audiences, businesses, and customers for affordability.
The cost has more to do with what kind of features and specifications one is looking for. However, if looked at in perspective in the long run they serve better. Each time approaching a large-scale factory procedural method is tedious and not available at the convenience of our time and deadlines. No wonder it is among the best business ideas for 2025!
Posted on Aug 27, 2021
|
By Sparsh Shreya
|
0 Comments