Cloud-based accounting is growing faster in the competition with traditional accounting
Posted on Mar 1, 2017
|
By Deep Patel
Though the usage of Offline Accounting Softwares is more than 80% in the Indian Market, the firms are slowly switching to cloud based accounting practices. When accountants and CAs work with entirely online platforms, they have an advantage of high-performance servers and sophisticated computing applications. It eliminates the need of installing a complex software in a personal computer and also allows them to work from any internet-enabled device. This means no purchasing, installing, updating or maintaining software programs. It also elimintates the need of a dedicate server room and an extra staff to manage the resources.
In addition to the efficienty & cost saving, the cloud solves the data loss issues due to computer or hard drive crash. The data is backed up safely on secured servers which can only be accessed using credentials setup by the user. Their clients can now access their data remotely from anywhere in the world, at any time, keeping them updated about their Business Finances.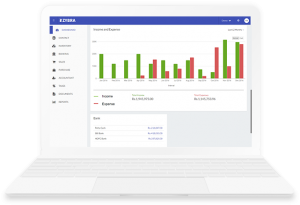 Leveraging the advantages of the cloud, CAs & Accountants are taking innovative approaches to grow their business. They have started growing their practices beyond their local areas, Adding 5 times more clients than the local traditional firms.
There a pros & cons of every accounting softwares, but here are the top 3 reasons why accountants & CAs are adopting cloud practices.
1. Instant Access for all users
An internet enabled device gives instant access to the accounts of any of their clients. This with role based access to mulitple users, allow the entire team to make entries & work together remotely or from home or even while travelling. Not only does this convenience profoundly increase productivity, it removes the need for software licensing in order to support multiple user activity. It also means less risk, since sensitive financial information can be accessed by multiple team members only based on their access levels.
This also enables the accountants & CAs to give regular, instant updates to their clients about their business finances.
2. Advanced Security
Protecting clients' confidential financial data is a top priority for every accountant. The state-of-the-art coding and encryption technologies used by today's cloud-based applications offer an added layer of security you can count on. And these online solutions help you to avoid the risks that many PC-based programs are exposed to on a regular basis.
With personal computer-based accounting software, you run the risk of losing irreplaceable data through system crashes, software viruses, and malfunctioning back-up hardware. Having to manually transfer data from one location to another through email, external drives, or shared computer files can leave you vulnerable to information hijacking and data corruption.
Reputable cloud providers ensure that the information you enter and exchange within the framework of their software applications is highly protected. In addition to modern password and encryption methodology, data exchanged in the cloud is scattered and dispersed over multiple servers in various locations, further preventing its unauthorized access or deletion.
3. Real-time
P&L Statements, Balance Sheet, Revenue & Expense Reports all are now available in real-time. This gives multiple advantage to the CAs & accountants.
No more last day hassle of generating reports. The accounting team can easily generate updated reports in realtime.
Also, using the realtime data an accountant/CA can give instant, accurate financial advice & consultation. Resolving all the client queries in real time gives edge over traditional slow practices
Cloud based computing services are expected to grow rapidly in 2017. Whether you're just getting started, or are looking for ways to crank up your company's established performance, you can be up and running competitively inside the cloud in virtually no time at all. Get started with Zybra's Cloud based Accounting Software now.
Posted on Mar 1, 2017
|
By Deep Patel
|
0 Comments